Cell phone plans can be both expensive and confusing in nature. With the advent of data packages, the ever-evolving world of applications, and the rapidly transformative arena of smart phones, many people — particularly of older generations — are getting overwhelmed.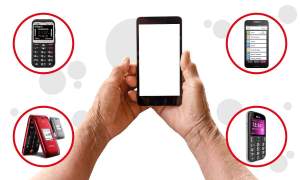 Some people want a no-frills approach when it comes to their phones. This includes none of the bells and whistles (or texting) that many younger generations crave. In 2020, there are a number of attractive cell phone plans designed specifically for senior citizens. This piece will speak about some of those options — including how much the said plans will cost. Most major cell phone providers offer packages geared towards senior citizens. As we soon will learn, the aim is to provide a cost-effective plan without the inclusion of unnecessary attachments.
Emergency Plans
Emergency cell phone plans hold a lot of value for senior citizens. This is especially the case if the individual lives by themselves without any sort of help service. GreatCall in particular offers a phone to help those with eyesight issues and hearing issues. The text on the phone is enlarged, the buttons on the phone are bigger than a normal device, and the speaker on the phone has enhanced audio in order for the individual to hear incoming calls. Additionally, GreatCall will allow the user to have health services on the plan. This includes automatic dialing of 911 and Urgent Response. The monthly price for 250 minutes is roughly $14.99. For those who may have visual or hearing impediments, this seems like a terrific option.
Flexible Plans
Flexible plans are quite nice. The user isn't locked into a certain amount of time/data on the phone. As shown by US Mobile and Ting, the user will be billed based upon the amount of texts, calls, minutes, and data used. There are levels pertaining to usage. Each corresponding level costs a certain amount each month. For instance, the base price for US Mobile is $2 a month (not including the initial chosen level of minutes/data/text messages). That tier will increase — or decrease — based upon the monthly usage rate. There are even stipulations where the user can bypass phone calls completely if they'd solely want to use text messaging as the primary source of communication. Another nice option is the Mint Mobile Phone Plan — where one gets unlimited talk and text (with 3GB/mo. of 4G LTE Data) for only $15/month.
Pay-As-You-Go Plans
There are some senior citizens who minimally use a cell phone. Whether it's an inconvenience or a lack of interest, these people don't want to get roped into long-term commitments when the phone is sparingly used. However, family members also want to have a peace of mind in the event that the elderly person needs to get in touch quickly from a location outside of their home. The pay-as-you-go option satisfies this need. Both AT&T and T-Mobile offer highly cheap and rudimentary packages. T-Mobile offers a $3 monthly package which encompasses 30 minutes of calls or texts. Duly, AT&T will allow plans that cost $2 a day for unlimited minutes and text messages. The user will only be billed on the days that they actually use their phones. Both seem like pretty sweet deals.
Tech-Centric Plans
There are some senior citizens who enjoy channeling their 'inner grandchild' by using a smartphone. While those contracts can get rather expensive, there are some plans which will save the individual some money in the long run. One of those is the Boost Mobile Unlimited — where unlimited talk and high-speed data can be had (without any other pledges) for $50.
Image Source: Senior Sources